The Kyoto ryokan experience should not be missed when you're in the area. In fact, the best traditional homestay experience whether backpacking Japan or having a more luxurious holiday can be found by staying at an authentic ryokan.
The former Japanese capital being one of the best places to dive into Japanese history and tradition, it comes as no surprise that there are lots of impressive ryokan in Kyoto. They come in a wide selection of prices so definitely don't miss out. My guide will let you in on the best ryokan in Kyoto, covering all price ranges.
**** This post isn't sponsored nor commissioned but contains affiliate links. If you book anything from them, this doesn't cost you anything but might give me a little commission to help keep this free blog full of more travel tips and me fuelled with chocolate to keep writing. As an Amazon Associate I earn from qualifying purchases. ****
Pin me!
What to Look Out for in a Ryokan
What is a Ryokan?
First up, a ryokan is a traditional Japanese hotel but more like a nice homestay. The furniture is typically Japanese with tatami mats on the floor, sliding doors, low wooden tables in the seating area and futon mattresses on the floor for sleeping.
The latter part seemed a bit odd for me on my first visit but it's really comfortable and shouldn't deter you in any way.
How much do ryokans cost?
As with regular hotels and bnbs, ryokans come in a variety of price categories, from affordable to super luxurious and therefore pricy. This also reflects in included perks and facilities that you can use. Essentially, you can pay anything between 7,000 YEN (65 USD/57 EUR) to 140,000 YEN (1300 USD/1140 EUR) per night.
What are ryokan perks?
You can stay in hotels in most places across the world but ryokan are special to Japan. Besides traditional décor and sleeping styles, you can also treat yourself to a very specific kind of dining in.
"Kaiseki" is a traditional multi course dinner that is part of Japanese hospitality and Kyoto is particularly renowned for its outstanding multi course menus. Don't forgo on this option even with cheaper roykans in Kyoto. Many ryokans commonly include half board. Always double check before booking and read reviews for personal guest ratings on the quality of the food. (Food in Japan is usually excellent anyway.)
Free Download: What to pack for a trip to Japan
What ryokan styles are there?
There are many different kinds of ryokans to choose from and Kyoto has its own fair share of those. The cheapest kinds are the standard, no frills ryokans or even modern ryokan. Furnishings are super simple, comfort is adequate.
For a real authentic experience, stick to the traditional ryokan. Each of these typically have their own history and will pamper its guests. In winter, I wouldn't necessarily recommend them as the thin walls and cold bathrooms can be rather chilly. Ryokans I stayed in even in March were really drafty.
Luxury ryokan are top notch facilities and you'll feel like a Queen (or King). Meals are included, bathing is almost spa like (and often are connected to natural thermal springs) and the wooden rooms are impeccable. You also have access to a beautiful Japanese garden.
You might have heard that you can also stay at a Buddhist Temple. If you go hiking, around the Kansai region for instance, you can easily include overnight stays along your path. Monks will give you shelter and vegetarian food. Alternatively, you can also book a Buddhist temple stay rather than just rocking up this way. Look for "shukubo" if you do.
This might not be interesting for solo travelers but I'll mention it for the sake of completion. You can also rent an entire house. Search for Japanese cottages to take advantage of the option of a traditional style lodging with the utmost privacy. Meals aren't included here and often you are also in remote locations. So come prepared with groceries.
Even more tips: Picking the best location for your Kyoto stay
Budget Ryokan Picks
Matsubaya Ryokan
On the hunt for a cheap ryokan in Kyoto? Opt for the Matsubaya Ryokan, One of Shimogyo Ward's best budget recommendations. A big plus when picking this ryokan is the single room option for solo travellers to Japan.
Also, it's close to the Kiyomizu Temple, Fushimi Inari Taisha Shrine, the Kyoto International Manga Museum and the Shosei-en Garden. Temples are, in fact, abundant in this area.
Location: 5 minute walk to Gojo Subway station and Higashihongan-ji Temple
Perks: Refrigerator, electric kettle, computers with free internet access (lobby only)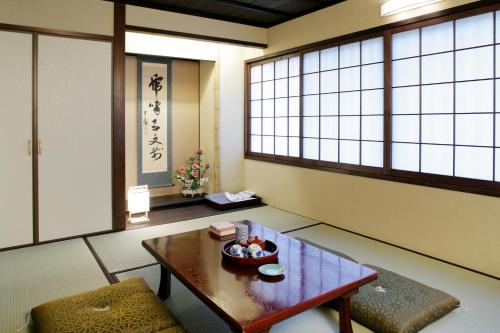 Tanaka-ya
Any budget ryokan Kyoto recommendations should include the Tanaka-ya. It's just minutes away from tourist hubs Kyoto National Museum, the Nijo Castle and the Kyoto Gyo-en Gardens.
Don't miss the geisha passing by in the hotel. (But always kindly ask before taking photos!) The Gion District is also just a heartbeat away.
Location: 6 minute walk from Kiyomizu Gojo station
Perk: Free Wi-Fi, pantry with refrigerator, electric kettle, microwave, air conditioning
Ryokan Shimizu
We're still on the budget tip for Kyoto homestays so I suggest the wonderfully quaint Ryokan Shimizu. Temples the Higashi-Hongan-ji and the Sanjusangen-do Temple are located mere minutes away. If you want some me-time, you can do so in this hotel by way of private baths that you can have for a fee.
Location: 7 minute walk from JR Kyoto station
Perks: Free Wi-Fi, private bathroom, television, refrigerator, tea maker, toiletries
Mid-Range Ryokan Picks
Nishiyama Ryokan
There are plenty of ryokan near Kyoto stations, and for top mid-range recommendations close to train lines, the Nishiyama Ryokan is always included. Enjoy the view along the Kamogawa River and bask in the marvels of the Honno-ji Temple, which are just minutes away from the hotel.
Location: 7 minute walk from Sanjo Keihan station (Keihan Line), 15 minute walk from Kawaramachi Station (Hankyu Line)
Perks: Free Wi-Fi, air conditioning, LCD TV, toiletries
Izyasu
Formerly known as Ryokan Izuyasui, the Izyasu is a traditional ryokan in Kyoto that possesses that antiquated Japanese feel that you want to partake in. From the soothing Zen-like atmosphere down to the use of shoji paper screens, guests are instantly taken to the Kyoto of old.
Location: 10 minute walk from JR Kyoto train station
Perks: Free Wi-Fi, free parking, guestrooms with iPads
Luxury Ryokan Picks
Arashiyama Benkei
The Arashiyama Benkei is a first-rate choice when it comes to a luxury ryokan in Kyoto. A quiet setting for travellers who just want to relax in their very own private hot spring onsen amid hinoki cypresses and breath-taking views. Tourist spots like the Kinkaku-ji Temple and the Nijo-jo Castle are just a train ride away.
Location: 5 minute walk from Keifuku Arashiyama station, 15 minute walk from JR Saga Arashiyama station
Perks: TV, electric kettle, refrigerator, complimentary green tea bags
Ryokan Inn Yoshida-sanso
Itching to get away from it all? The is a tranquil luxury ryokan that's worth every money you spend. Temples surround the serene settings and it's suffused with abundant greenery and walking paths.
The Kyoto ryokan also offers authentic local cuisine, a tea salon that serves delicious tea and sweets and close proximity to the Ginkaku-ji Temple.
Location: 19 minute drive from Kyoto train station
Perks: Free Wi-Fi, dining room, private bath reservations, free parking, Japanese leisurewear and skin care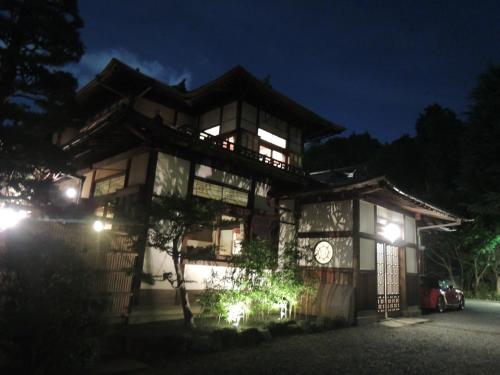 More from the Japan blog