Ubud in Bali, Indonesia is a place teeming with the country's cultural heritage, history and natural attractions. It is perfect for travellers who just want to kick back and take in beautiful, natural environs and spiritual sites. Before you wonder where to stay in Ubud, however, you should know about the three main districts and their individual perks as well as, of course the best hotels in Ubud.
**** This post isn't sponsored nor commissioned but contains affiliate links. If you book anything from them, this doesn't cost you anything but might give me a little commission to help keep this free blog full of more travel tips and me fuelled with chocolate to keep writing. As an Amazon Associate I earn from qualifying purchases. ****
Pin me!
Central Ubud
Central Ubud is a traveller haven. The place is rife with local shops and restaurants. This means you can dive right into the area's specialty handicrafts and local cuisine. It's also a great place to check out dance and music performances. Naturally, you can find easily accessible Ubud accommodation ranging from mid-range stays to luxury hostels in Ubud.
Budget
Liang House and Hostel
If you are on the hunt for cheap hotels in Ubud, try out hostels like the Liang House and Hostel. It's close to the Ubud Monkey Forest and some rooms come with a terrace and excellent garden views.
Location: 17 mi from Ngurah Rai International Airport
Perks: Free Wi-Fi, free private parking,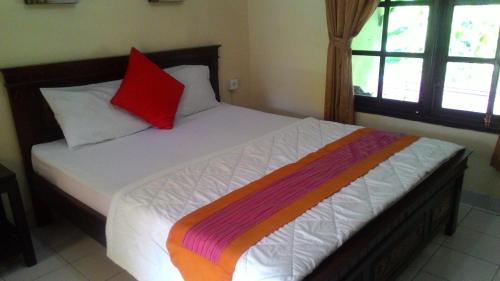 Mid-Range
Bucu Guest House
The Bucu Guest House is one of Ubud's best hotels for travellers opting for mid-range priced accommodations. There are various dining options around, allowing you to enjoy local Balinese fare in the most accessible way possible.
Furthermore, the place is located near the Ubud Traditional Art Market, where you can check out a range of handcrafted goods and souvenirs. Don't forget to haggle as you'll be given tourist prices.
Location: 105 minutes away from Ngurah International Airport
Perks: terrace, wardrobe, fan, complimentary Wi-Fi access in public spots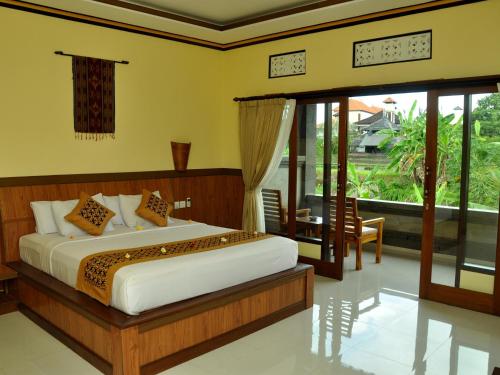 Luxury
COMO Uma Ubud
Any best places to stay in Ubud list is not complete without the COMO Uma Ubud. It's close to popular Ubud sights like the Blanco Renaissance Museum and overlooks the stunning Tjampuhan Valley. The hotel offers free scheduled area shuttles, free guided morning walks and free scheduled yoga classes.
The spacious rooms themselves will leave you feeling like royalty as floors are made from marble and there are four-poster beds. Plus, you have access to the onsite sauna, outdoor pool and gym. Should you want to be active outside the hotel, take advantage of the hotel's car and bicycle rental facilities.
Location: 19 miles from Ngurah Rai International airport
Perks: Free Wi-Fi, outdoor pool, sauna, gym, free yoga classes and guided morning walks
Padang Tegal
Padang Tegal is home to the Pura Dalem and the Monkey Forest plus plenty of souvenir stores, affordable fashion shops, reasonably-priced spas and mid-range accommodations.
The area is a significant tourist spot and this is where you can get into the best things to do in Ubud, dine at the best restaurants in Ubud and stay in the Ubud hotels as well.
Budget
Three Brothers Guest House
The Three Brothers Guest House is considered by many experienced travellers as one of the most wonderful hotels in Ubud, Bali.
Moreover, it's in close proximity to the Ubud Palace and even features its own private temple and garden. Besides this, you also have access to both an onsite barbecue and bar.
If you like a room with a view, certain rooms overlook the mountains or city. Rooms are ensuite and come with a shower. Air conditioning is installed.
Location: 17 mi from Bali Denpasar International Airport
Perks: Free Wi-Fi, free barbecue, on-site bar, free private parking, free yoga sessions
Mid-Range
Swahita Ubud
Looking for a mid-range hotel in Ubud? The Swahita Ubud is one of the best. Its elegant modern Balinese style rooms are equipped with a desk, flat screen TV, private bathroom, free Wi-Fi and their own seating area.
Tourist destinations close by include the Saraswati Temple, Ubud Market, Ubud Monkey Forest and Ubud Palace. Before you venture out, help yourself to the complimentary breakfast, which is served daily.
You don't even need to leave the premises for food at all as the onsite restaurant will treat you to local delicacies, including vegetarian and gluten-free options.
Location: 36.km from Ngurah Rai International Airport
Perks: Free Wi-Fi, desk and flat screen TV, private bathroom, continental breakfast
Luxury
The Samaya Ubud
The Samaya Ubud is for professionals who are looking for great business hotels in Ubu. The place features 24-hour butler services for the ultimate in luxury accommodations and a private pool.
Location: the Ngurah Rai International Airport is just a 75-minute drive away
Perks: Free Wi-Fi, iPod docks flat-screen TV and cable
Peliatan
Most professional dancers in the country come from Peliatan. The area's known centre for cultural performances. It's also a busy retail centre apart from being included in the best of Ubud's artistic hubs.
Budget
Sahadewa House
Great budget hotels in Ubud include the Sahadewa House. It comes with a beautiful garden and is close to the Ubud Palace, the Ubud Monkey Forest, Arm Museum, the Ubud Market and the Elephant Cave.
The property also features a terrace where guests can relax and contemplate on their journeys.
Location: 35.4 km from the Ngurah Rai International Airport
Perks: Free Wi-Fi, closet, private bathroom, air-conditioning
Mid-Range
Artotel Haniman Ubud
Looking for the best hotels in Peliatan, Ubud is pretty easy. Check out the Artotel Haniman Ubud, which is close to the Yoga Barn Studio, the Bebek Bengil Restaurant and the Ubud Monkey Forest.
The Bebek Bengil is a great way to experience excellent Indonesian Cuisine. The property also comes with a lovely terrace and garden.
Location: 35.4 km way from Ngurah Rai International Airport
Perks: Free Wi-Fi, flat screen TV, private bathroom, free toiletries
Luxury
Maya Ubud Resort & Spa
When it comes to grand hotels Ubud can be proud of the Maya Ubud Resort & Spa. The property can be found in a lush, green valley close to the Petanu River. If you travel to get away from all the hustle and bustle in your life, this is a place where you can find solace amongst a lovely, natural setting.
The hotel is ideal for business and leisure travellers alike as you can get work done at the business centre or rent e bike from reception to explore the region. For extra comfort, there is a hotel restaurant serving international and Asian dishes as well as a bar and a café.
Location: 18 mi from the Ngurah Rai International Hotel
Perks: Free Wi-Fi, infinity pool, fitness centre, yoga classes, private bathrooms with tub
Is a Stay in Ubud Worth It?
When in Ubud where to stay shouldn't be a question any more. Should the listed Ubud resorts and hotels not be to your liking, you can always browse with a filter according to your preferences on Booking.
I typically book my stays there or via airbnb. (Here's a $25 airbnb voucher in case it's your first time booking on the platform.) In case you need some more travel inspiration, however, here are a few more Bali posts.
More from the Bali blogs