The quaint historic village of Iyashi no Sato in Fujikawaguchiko (also known as Saiko Iyashino-Sato Nenba) is like a trip back in time. Set to the backdrop of scenic Mount Fuji, the thatched houses underneath low hanging cherry trees are a stunning sight to behold.
**** This post isn't sponsored nor commissioned but contains affiliate links. If you book anything from them, this doesn't cost you anything but might give me a little commission to help keep this free blog full of more travel tips and me fuelled with chocolate to keep writing. As an Amazon Associate I earn from qualifying purchases. ****
Pin me!
Quick History
Iyashi no Sato translates to "Healing Village," which perfectly describes the therapeutic views of Mt Fuji and the peacefulness of the cultural immersion the village has to offer.
The historic farming village sits on Lake Saiko's northwestern shores facing the famous volcano. It's hard to tell but the quaint settlement isn't original.
In 1966, the village was destroyed in a mudslide that was caused by a typhoon. Forty years later, its 22 traditional thatched roof houses, which were designed to look like samurai warrior helmets, were reconstructed. So the tourist village of Iyashi no Sato was born.
Now, this Kawaguchiko attraction is an open air museum and traditional craft village. You can come and experience various aspects of traditional culture on your Japan trip.
There are hands-on experiences such as trying your hand at traditional crafts, sampling local cuisine and dressing up in traditional garb like armor, samurai outfit or a kimono.
What to Do
Iyashi no Sato offers a lot of different activities and opportunities to learn about Japanese culture and tradition. Wandering around the village leaves you feeling like you've been transported back in time and into a fairytale.
Each of the 22 houses you walk by have something different to offer. Some are museum-like and offer informational displays about the village and its history.
Entry is: ¥350 (adults), ¥150 (children), ¥100 (groups) *valid as ofMarch 26, 2019
Don't miss out on hands-on craft making experiences. You can join a pottery workshop, discover the crafting secrets of handmade paper, crepe-cloth ornaments, and hand-woven fabrics, or learn about charcoal production, which was once the main industry in the Nenba area.
Next, rent a kimono or traditional samurai outfit for 500 yen and have an epic photoshoot in front of Mt Fuji. For something a little different, check out the Erosion and Sediment Control Museum. It's a fascinating place to learn about how the typhoon affected the original Nenba community.
How to Get Here
Getting around Iyashi no Sato is easy and convenient. If you only have one day, you can make it a day trip from Tokyo.
The best transportation option to get to Iyashi no Sato for your traditional Japanese vacation is to take the bus from Shinjuku Bus Terminal. It takes about three and a half hours and costs between $20-30.
There is also a train, but it is more expensive and takes about an hour longer. You can check train timetables and prices here. For train travel, you can take advantage of your JR Railpass and get a handy rail guide for Japan.
If you're starting in the Fuji Five Lakes region, take the Omni Bus Green Line from Kawaguchiko Station to Iyashi. It runs twice per hour and the ride is about 40 minutes.
How to Get Around
For the best value, buy the two day bus ticket. You can use it to hop on and off the local attractions and it will drop you off right at the village. I personally used this ticket twice and totally recommend it.
Please be aware that it doesn't include a trip up on Fifth Station of Fuji. (Also take note of your dropoff points, come super early and make yourself seen to the bus driver. I once had a bus driver just pass me on a lesser frequented stop.)
Of course you could also use taxis, though they aren't cheap in Japan. Your best bet is to download the JapanTaxi app. It's like uber but you need internet access to use it.
That is why I order a Japanese tourist sim card before my trip or pack my portable hotspot so I make sure to not get lost during my day trips. First time signups get a ¥1000 discount (~9 USD/8 EUR).
There is free parking by the village with space for about 120 cars and 20 buses. The village is equipped with an accessible slope and there are no steps. Here's more info on accessibility.
When to Visit
Iyashi no Sato in Japan's centre is stunningly beautiful all year round. Spring and autumn offer the best weather for walking around, and summer is the best time to visit for photography because views of Mt Fuji are the clearest during this time of year.
In the winter, snowfall turns the village into a scene from a magical fairytale. It truly is a perfect place for photography lovers and you get much different views than the typical Fuji photos from Hakone. So much foreground to play with!
From March through November, the village is open from 9am to 5pm. From December through February, the village is open from 9:30am to 4:30pm and is closed on Wednesdays.
Admission closes 30 minutes before closing, so be sure to get there early enough to get in and have enough time to explore. And double check the bus times so you won't get stuck at the village. The last bus leaves in the afternoon.
Good to Know
Some of the huts can be entered and you can walk up to the second floor. In total, I would schedule in 1-2 hours for a visit. I spent 90 minutes here.
It never hurts to come prepared with snacks, but the village has three mouth watering dining options. Try delicious Japanese delicacies like stone baked soba noodles, hand rolled udon, and dumplings.
Be sure to save room for soft ice cream, which is one of the highlights of the area. The village's ice cream shop has fun flavors like fuji apple, green tea, and wasabi.
Iyashi no Sato is also a great place to do some Japanese souvenir shopping. Here you'll be able to find all the souvenirs you need for yourself and your loved ones back home to remind you of your Japan trip. You can get carved figurines or ceramics, for instance.
Where to Stay
You can't actually stay in the Healing Village of Kawaguchiko but the town isn't far away. During my visits, I stayed at Kawaguchiko Station Inn because it had affordable prices.
I chose a hostel-dorm-like room where each bed had its own storing space beneath and curtains to separate it from the other guests.
The inn was right by the train station and central bus stops, had its own rooftop onsen (separate) and convenience stores were nearby. There was a free hot tea station, so I could make instant noodles as well.
Perks: onsen, lounge room
Price range: $
A more traditional hostel stay in Kawaguchiko is Hostel Michikusa-ya. It's more modern and sleek with wooden beds that come with curtains as well. It's right by the Kawaguchi lake and the bus station isn't far either.
The hostel has its own garden, there is a shared bathroom and rooms are air conditioned and have Wi-Fi. You can prepare your own food in the common kitchen and storing your luggage is possible as well.
Perks: garden, kitchen
Price range: $
FujizakuraInn is more like a typical Western hotel and lies a 15 min foot walk south of Kawaguchiko station and 3.3km from Lake Kawaguchi. There is a free shuttle to the theme park Fuji Q from the train station.
Rooms are air conditioned, there is Wi-Fi and free parking for hotel guests. Rooms are ensuite and you will be provided with slippers and hair dryer.
Perks: ensuite, free parking
Price range: $$
To enjoy privacy in your very own room, try Senjo LakeKawaguchiko. This hotel in Kawaguchiko is a typical Japanese ryokan and held in a typically Japanese style with tatami mats on the floor. Rooms are minimally furnished but come with a TV, a small desk and Wi-Fi.
If you travel and share the room with friends (rooms sleep between 2 to 5 people), prices are really affordable. Also, the Kawaguchiko ryokan sits right by the shore of the Lake and the green line bus stops nearby.
Perks: traditional style, lake views
Price range: $$$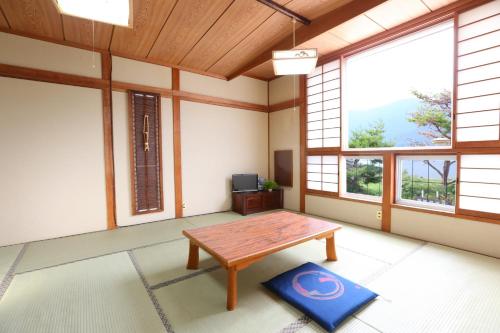 More from the Japan blog