Brooklyn has this reputation of being a productive, inspiring refuge for upcoming artists, musicians and other creatives, thus turning the borough into an enclave for excellent undiscovered art and music.
If you're travelling alone and want a guide on excellent digs, do check out my recommendations on why and where to stay in Brooklyn.
**** This post isn't sponsored nor commissioned but contains affiliate links. If you book anything from them, this doesn't cost you anything but might give me a little commission to help keep this free blog full of more travel tips and me fuelled with chocolate to keep writing. As an Amazon Associate I earn from qualifying purchases. ****
Pin me!
Why Stay in Brooklyn?
Honestly, I think Brooklyn is one of the coolest boroughs in NYC. It's much edgier than Manhattan and has many hip cafes, the sister park to Central Park, cool street art in Bushwick and epic views over Manhattan (not just from DUMBO).
There are hip flea markets in Brooklyn, gorgeous rooftop bars and the nightlife in Williamsburg isn't too shabby either. (I even saw the Batman sign projected onto a former factory building on Batman Day!)
Brooklyn Artist Delight
The Brooklyn Artist Delight is a Flatbush homestay offering pleasant city views and a comfy lounge where you can mingle with other guests.
Facilities provided include private parking. Guests can also take advantage of free Wi-Fi all over the property. The homestay is also situated nearby good restaurants and is housed in a nice, peaceful neighbourhood.
Solo travellers can opt for the living room with sofa bed in shared apartment option.
Location: 13.4 km to John F. Kennedy International Airport, 13.8 km to LaGuardia Airport
Perks: Free Wi-Fi
Budget: $

Source: Agoda
Jefferson Inn
Know that you can never run out of affordable accommodations in this borough. In Brooklyn, places to stay like the Jefferson Inn is always packed thus make sure that you get your reservations on the quick.
This is one of the most popular budget picks and a constant choice for most solo travellers. Enjoy the company of a congenial host and accommodating locals in a nice, safe neighbourhood.
It's also situated close to city landmarks like the Grand Army Plaza and Barclays Center. Those flying solo will appreciate the budget single room option.
Location: 10.9 km to LaGuardia Airport, 12.8 km to John F. Kennedy International Airport
Perks: Free Wi-Fi
Budget: $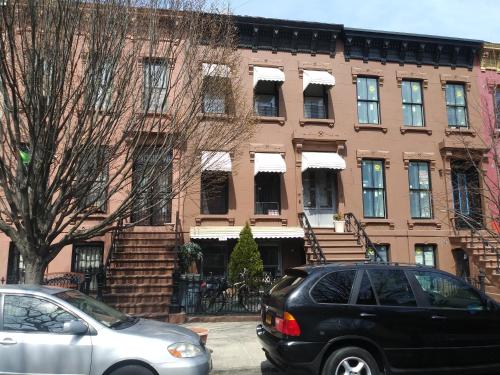 Jefferson Inn. Photo: Agoda
Sandy's Place NYC 1
Another great Bed-Stuy accommodation find is Sandy's Place NYC 1. This apartment-style accommodation is located close to NYC attractions.
These include the Brooklyn Navy Yard, Coney Island, Barclays Center and the Brooklyn Museum. It's close to the subway too and equipped with modern conveniences.
The Bed-Stuy area has an energetic vibe but it's very much a safe place to explore and live in. Lots of shops around where you can buy your essentials. Solo travellers can have the one-bedroom apartment option.
Location: 10.4 km to LaGuardia Airport, 12.9 km to John F. Kennedy International Airport
Perks: Free Wi-Fi, private bathroom
Budget: $$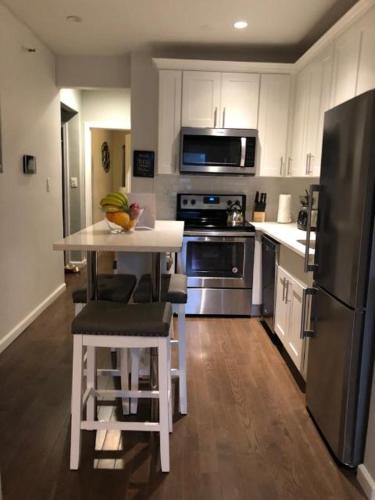 Sandy's Place. Photo: Agoda
Hotel Le Jolie
For remarkable hotels in Brooklyn options, try the Hotel Le Jolie. This Euro-style hotel is located in Meeker Avenue and offers free Wi-Fi, a 48-inch HDTV, a continental breakfast and hassle-free journeys to Manhattan.
It's quite close to the subway station, local restaurants and tourist spots like the Metropolitan Museum of Art. Renting a car?
Then plan ahead; the place offers limited, free on-site parking but at a first-come-first-serve basis only. Rooms are built with modern furnishings and illumined art panels.
Location: 9.2 km to LaGuardia Airport, 15.9 km to John F. Kennedy International Airport
Perks: Free Wi-Fi, air-conditioning, flat-screen TV, private bathroom, safe, telephone
Budget: $$$

Hotel LeJolie. Photo: Agoda
Hotel Brooklyn Bridge
This list of places to stay in Brooklyn ends with the Hotel Brooklyn Bridge, a swanky find if you want to go all-out for your NYC tour.
It has units equipped with a coffee machine, free Wi-Fi throughout the property plus they even offer free Tesla rides within a 4.8-kilometre radius.
The place also offers a 24-hour fitness centre, a café that focuses on dishes with local ingredients and shared spaces for relaxing or working. Solo travellers can go for the Superior King Room option.
Location: 13.2 km to LaGuardia Airport, 15.6 km to Newark Liberty International Airport
Perks: Free Wi-Fi, air-conditioning, flat-screen TV, bathroom, free toiletries, telephone
Budget: $$$

Hotel Brooklyn Bridge. Photo: Agoda
More NYC trips – Read on