Waking up to the gentle rays of early sunshine while the rooster crows and the sheep bleep, that's what you get from a stay in Dartmoor. Whether you are looking for a simple retreat or a more luxurious stay, here are the best Dartmoor Holiday cottages to start your hikes across Dartmoor or the bluebell woods of Devon.
**** This post isn't sponsored nor commissioned but contains affiliate links. If you book anything from them, this doesn't cost you anything but might give me a little commission to help keep this free blog full of more travel tips and me fuelled with chocolate to keep writing. As an Amazon Associate I earn from qualifying purchases. ****
Pin me!
Why Stay in a Dartmoor Cottage?
There are lots of reasons why the locals and even adventurous tourists are opting for holiday cottages in beautiful, natural settings. For one, you get to reduce your carbon footprint.
Next, you have ample opportunity to slow down and enjoy nature. It's perfect for a digital detox! On top of that, the South West in England offers a mild climate and breath-taking scenery.
A trip to Dartmoor is a complete calming feast for the senses. The region is suffused with hills that seem to kiss the sky, mystical woodlands, massive granite outcroppings, green landscapes, amazing waterfalls and a host of traveller destinations. Allow the best of Dartmoor to make that particular journey unforgettable.
Dartmoor cottages are typically bed and breakfast lodgings, which are deemed excellent budget accommodations. Owners of these cottages see to it that they're guests are showered with nothing but the best in Dartmoor hospitality. This means comfy accommodations, great food, superb views, exciting adventures, relaxation and a warm welcome.
Need local travel ideas?
Dartmoor Walks | Ashburton | Totnes | Brixham | Teignmouth
The Old School House
Have you ever slept in a former school before? (And no, I don't mean on the table.) You can get all snug at The Old School House near Yelverton. The historic building is made from classic grey brick stone and dates back to 1875.
Rooms are conveniently spacious with king-size beds and central heating for colder days. A dash of purple adds some modern chic and there is original art on the walls.
Here, you can start the day right among nature and with a prepared breakfast that is included in your room rate. Bread is freshly baked and you can try homemade conserves and marmalade. Dinner can be added for a fee.
Nearby attractions: Dartmoor Zoological Park, Buckfast Abbey, Lydford Gorge, Tamar Valley
The Horn Of Plenty
Another Dartmoor holiday cottages with the Horn of Plenty destination. This lovely traveller favorite presents the excellent view over Tamar Valley. The Horn of Plenty is a worthwhile visit for folks who need to get away from all of life's hustle and bustle.
This is a country house-type hotel, which will attract those who have a thing for rustic accommodations. The destination also presents the Country House Hotel; it's the region's finest and will certainly tempt you to go back just for another delicious taste of the place's topnotch cuisine. Bedrooms are well-furnished and most come with balconies too.
Summer absolutely is the best time to go to the Horn of Plenty since the place offers tons of beautiful spots to explore and activities to perform. The place is also a top foodie getaway because of their gourmet breaks.
Nearby attractions: The Garden House, Cotehele, Buckland Abbey, Morwellham Quay
Hay Tor Cottage
The Hay Tor Cottage is a row of cottages with splendid views of the vast, verdant moorlands where Becka Brook and the Emsworth Nature Reserve thrive. The place has traditional furnishings with some modern conveniences like an open-plan kitchen and dining area, microwave, oil-fired range cooker, sizable bathrooms, satellite internet access for browsing and emails, TV/DVD and the like.
This is a nice Dartmoor holiday cottage for nights of stargazing, solitude and relaxation. Travellers will discover a great lot of sights and grub around the area too. Widecombe can be found tucked within the Dartmoor valley, amidst exquisite topographical sights like the tors and moorlands. Due to the terrain, the best activities in Dartmoor's Widecombe area include leisurely walking, cycling by the mountains and hiking.
The place comes with a private water supper which is assessed on the regular. There's also privately-provided electricity and satellite internet (for casual use only).
Nearby attractions: Widecombe-in-the-moor, Torbay Sea, Hound Tor, River Dart Country Park
Turtley Corn Mill
Close to the bluebell woods of Lady's Wood and Penstave's Cove lies the Turtley Corn Mill. The place offers a total of six plush double en-suite rooms, crafted and ornamented to the nines with every traveller's need: complete comfort. Truly, this is another best Dartmoor holiday cottage destination.
This holiday destination is equipped with comfy Super-King Vi-Spring Beds, large showers, coffeemakers, toiletries, complimentary Wi-Fi and more. Get to check out the beautiful lake view in the morning coupled with a delicious breakfast on the house.
The lake and garden areas are lovely places to hang out with. Show your appreciation to the owners by enjoying snacks and drinks bought from them while enjoying the view. Wireless broadband is available however this free Wi-Fi is there for casual use only.
Nearby attractions: Paignton Beach, Greenway, Totnes Castle, Blackpool Sands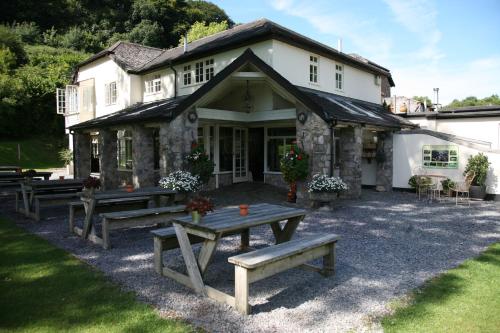 East Hook Holiday Cottages
The best of Dartmoor holiday cottages often include the East Hook Holiday Cottages. It is located in Devon, near Okehampton Castle, Hills and the viaduct. It offers a glorious view of Dartmoor spanning the Okement River.
The rustic charm of the cottages is nestled within roomy grounds. Every cottage in the site features a traditional appearance while the rooms are quite furnished with all the fixtures you need for a nice stay. Holiday-goers can enjoy a BBQ or relax in the destination's picnic tables and benches with friends and family.
You can take a walk into town, go for a leisurely walk or just ride a bike or fish in the provided facilities. Two of the most popular activities to do in this area is hiking and cycling; the place offers the Tarka Trail and the Devon Coast to Coast Cycleway.
Vehicle parking is environment-friendly; a must for today's eco-conscious travel enthusiasts.
Nearby attractions: Dartmoor Railway, Museum Of Dartmoor Life, The Granite Way
The Cherrybrook
The Cherrybrook is a Yelverton holiday destination that features a bra, garden, free Wi-Fi and a shared lounge. Accommodations include 7 well-furnished en-suite rooms with flat screen televisions/DVD players, radio and alarm clocks plus a restaurant which offers scrumptious 3-course dinners.
One of the best things about Cherrybrook is it has single-person rooms. So, if you are the type who loves travelling solo, you can have all the privacy you need in this splendid holiday cottage Dartmoor offers. Whether you're journeying alone, with a friend or your better half, a group of friends or family, Cherrybrook has the accommodations for a nice relaxing vacation.
The area gas top spots for bike-riding and hiking. You can rent a bike in the holiday cottage. This is a great place to stay for people who want to experience a secluded vacation with nothing but nature around them.
Nearby attractions: Bellever Tor, Burrator Reservoir, Lydford Castle
Apple Loft Cottage
The town of Buckfastleigh in South Devon offers the Apple Loft Cottage. One of the best things to do in Dartmoor is to explore the Dartmoor National Park, which is situated only minutes away from the cottage. Staying in this place, you will be awarded with stunning natural backdrops that will draw you in and just forget the city for a while.
Apple Loft Cottage offers its own grounds and patio spot. It also presents a lovely dining area and lounge which has a traditional feel to it. It has a well-furnished kitchen as well which can inspire you to whip up delicious meals in between exploring the area. The place also features beamed ceilings plus a downstairs shower room.
All rooms come with excellent furnishings for the best comfort during a stay. As for parking, Apple Loft also offers off-road parking for one vehicle in front.
Nearby attractions: Totnes Castle, River Dart, Torre Abbey. Watermans Arms
Burrator Inn
Still looking for the best in Dartmoor holiday cottages? There is another candidate that will pique your interest; the Burrator Inn. The holiday destination is nestled in the rolling hills and vast greenery of Sheepstor, Devon. It is truly a sight to see and an experience you should not miss.
The Burrator House presents self-catering units which come with the ultimate in relaxation and the rural experience. The Hayloft and the Stables can take in four adults including a cot in one double plus two bunk beds. The Stables was constructed out of solid, locally-made granite and turned into two exquisite cottage-style apartments which are private and self-governing.
Scyttle Cottage meanwhile was once the Coach House to the Burrator during a time when the first White Rajah made Sheepstor its residence. The cottage comes with three levels complete with a private garden. It can house up to eight adults in its four bedrooms. Linens are provided and the patio and garden cater to the guests.
Nearby attractions: Wildwood Arts, St Michael and All Angels' Church, Pannier Market
More from the England Blog